The Role of Education in the Development of Spirituality and Community Empowerment: Lessons from the Approach of Prophet Muhammad (SAW)
Keywords:
education, spirituality, integration of knowledge, development
Abstract
From time immemorial, education has been used to empower and develop communities through equipping them with knowledge and putting that knowledge to practical use. Applied knowledge led to the development of great civilizations. In Islam, Prophet Muhammad (SAW) used education to change the course of history. Even after his death, the Islamic civilization spread far and wide covering most parts of the world. The main element in the educational approach of prophet (SAW) was the development of spirituality. Through this, he converted the harshest Bedouin Arabs into an admirable generation. Morality became the foundation of society with brotherhood as the basis of individual responsibility towards one another. In doing so, the Prophet (SAW) endeavoured to impart practical knowledge that his disciples translated into a true appreciation of meaning of life, thereby transforming themselves and creating a civil society that became a model for generations to come. This paper is intended to unpack the education strategies and processes that Prophet Muhammad (SAW) used to transform human life and how Muslim scholars practiced and conveyed them to generation after generation until when the British introduced Western education leading to the collapse of the Ottoman Empire.
References
Ceballos, R. M. (2006). Adult education for community empowerment. In S. B. Merriam, B. Courtnay, C. Cervero, & R. M. Cervero (Eds.), Global issues and adult education: Perspectives from Latin America, Southern Africa, and the United States (pp. 319-331). San Francisco: Jossey-Bass.
Dzulkifli. A, R. (2015). Nurturing a balanced personality: The leadership challenge. USIM Press and collaboration with the ITBM and Yaysan Nurul Yaqeen Malaysia.
Firdaus, R., & Fatah, B. (2013). Islamic Education : The philosophy, aims and main features. International Journal of Education, 1(10), 1–18.
Gasarch, W. (2014). The book review column. ACM SIGACT News, 45(3), 7–9. https://doi.org/10.1145/2670418.2670420
Gloria, M. (2012). Community development work and youth empowerment. Diaconia University of Applied Sciences.
Grajczonek, J. (2010). Spiritual development and religious education: A review of the literature in the early years. Queensland Catholic Education Commission, 42. Retrieved from http://www.qcec.catholic.edu.au/wp-content/uploads/2015/12/Final_Spiritual-Development-Religious-Education-in-the-Early-Years_A-Review-of-the-Literature.pdf
Hashim, R. (2017). Revitalization of philosophy and philosophical inquiry in Muslim education. The way forward . 56 Six professorial Lecture Series, IIUM press.
Hassan, A., Suhid, A., Abiddin, N. Z., Ismail, H., & Hussin, H. (2010). The role of Islamic philosophy of education in aspiring holistic learning. Procedia - Social and Behavioral Sciences, 5(2), 2113–2118. https://doi.org/10.1016/j.sbspro.2010.07.423
Lewis, H. R. (2007). Excellence without a soul. Does liberal education have a future? New York: Public Affairs.
Lubis, M. A. (2015). Effective implementation of the integrated Islamic education. Global Journal Al-Thaqafah, 5(1), 59–68. https://doi.org/10.7187/GJAT792015.05.01
Miiro, F. (2017). Holistic personality development of youth through higher education using the prophetic practices. Australian Journal of Humanities and Islamic Studies Research (AJHISR), 3(1), 1–5.
Mpaata, A. K. (2017). Youth personality development and the ultimate character: The neglected role of educators. International Journal of Youth Economy, 1(1), 105–118.
Njus, R. (2010). Creating a school with soul. ENCOUNTER. Education for Meaming and Social Justice, 23(1), 1–5.
Othman, N., & Mohamad, K. A. (2014). Integrated system in the Malaysian education paradigm: A catalyst for a holistic personality development. International Education Studies, 7(5), 8–14. https://doi.org/10.5539/ies.v7n5p8
Salman, S. (2002). Values in education: an Islamic perspective. College Year Book. Retrieved from https://scholar.google.com/scholar?start=670&q=science+AND+hadith&hl=en&as_sdt=0,5#3
Sedik B. (2015). Intergrating and collaboration in education and learning. Yayasan Ilmuwan Do3A Setiawabg Bussiness Suites Tman Setiawang Kuala Lumpur Malaysia.
Shobha, S., & Kala, N. (2015). Value education towards empowerment of youth: A holistic approach. Procedia - Social and Behavioral Sciences, 172, 192–199. https://doi.org/10.1016/j.sbspro.2015.01.354
Tull, A. (2007). Excellence without a soul: How a great university forgot education. Journal of College and Character, 8(4), 1–2. https://doi.org/10.2202/1940-1639.1609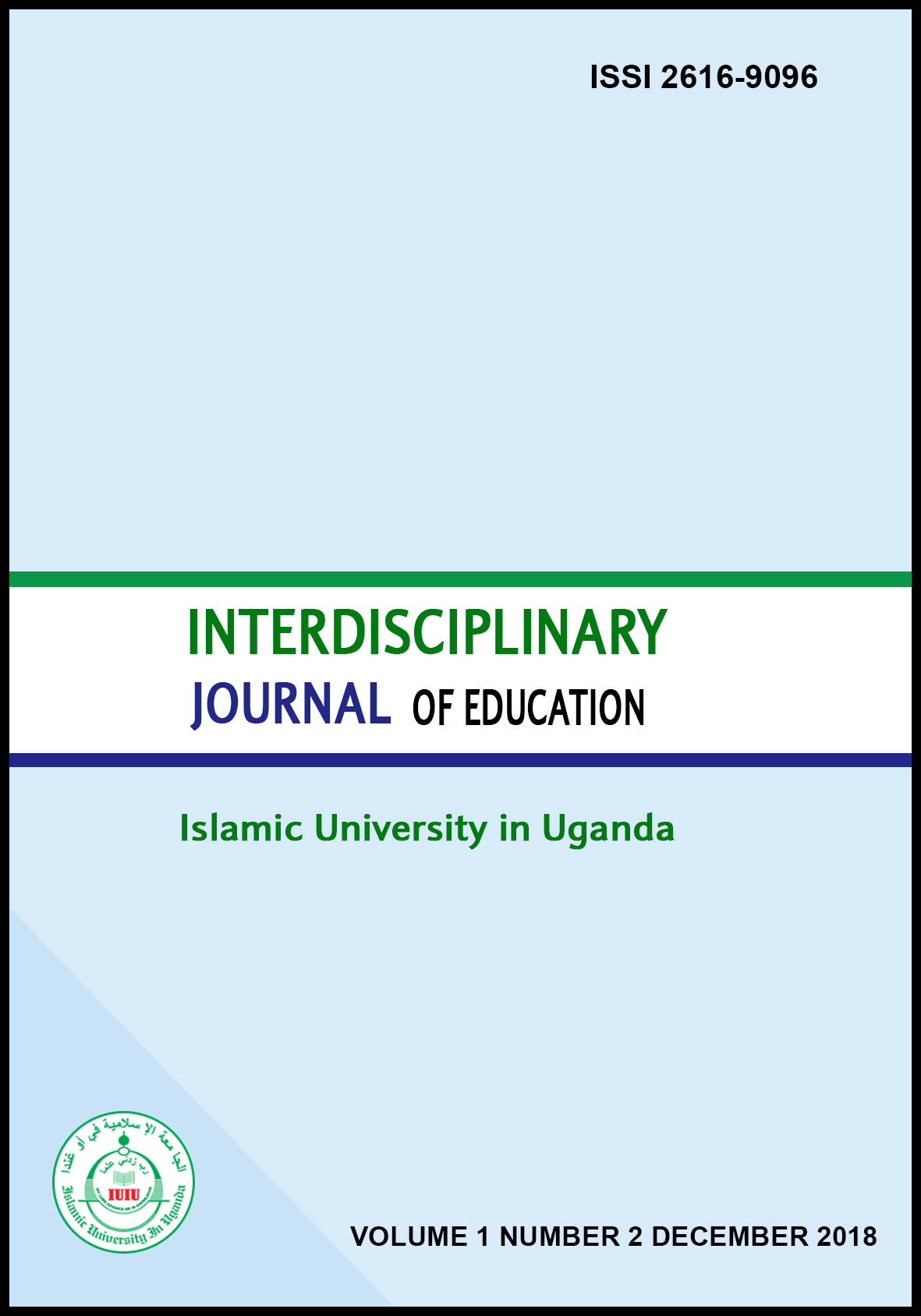 Downloads
How to Cite
Miiro, F., & Ssekamanya, S. (2018). The Role of Education in the Development of Spirituality and Community Empowerment: Lessons from the Approach of Prophet Muhammad (SAW). Interdisciplinary Journal of Education, 1(2), 239–249. https://doi.org/10.53449/ije.v1i2.65