Measuring Social Studies Critical Roles of Empowering Student's Civic Competence in Overcoming Gender Issues to Enhance Sustainable New World
Keywords:
civic compentence, gender, gender issues, new world, social studies, sustainable development
Abstract
The escalating reports of gender issues, particularly violence against women and girls across Nigeria, through the media are worrisome. This raises further questions on the roles of Social Studies in overcoming these concerns hindering societal peace for sustainable development. The researchers adopted a descriptive design to examine the knowledge and attitudes including social skills standards gained from Social Studies to help realize a new world order on gender issues in the society. A sample size of 200 respondents was chosen through a non-probability sampling method using a purposive sampling technique. The study adopted a quantitative method approach for data collection. The findings revealed high knowledge awareness of gender issues among respondents while attitudes and social skills gained recorded only moderate level of knowledge awareness. Also, findings showed a statistically significant difference between students' knowledge of gender issues and their social skills for emotional intelligence to deal with gender issues around them. Recommendations were made for teachers to scale up lesson emphasis towards helping students to develop required soft skills as solutions in responding to gender issues around them.
References
Abunimye, U. F., Essien, E. E., Effiom, V. N., & Godwin, E. B. (2020). Examining social studies curriculum in Nigeria among global realities: Issues, challenges and the way forward. European Journal of Scientific Research, 156(2): 145-159.
Anyabelechi, L. (2016). The issue of gender inequality in Nigeria. Journal of Policy and Development Studies, 10(2): 63-70.
Ayodele, M. (2022). Seven numbers show Nigeria far from gender parity. Business Day Newspaper, March 8, 2022. Retrieved from https://businessday.ng/news/article/sevens-numbers-show-nigeria.
Birabil, S. T., & Nwankwo, N. B. (2020). Social studies education: A linchpin for sustainable national development in Nigeria. European Journal of Education Studies, 7(1):338-344.
European Institute for Gender Equality (2014). Effectiveness of institutional mechanisms for the advancement of gender equality. Review of the implementation of the Beijing Platform for Action in the EU Member States. 1-149. Retrieved from https://eige.europa.eu
European Institute for Gender Equality (2014). Gender issues. Retrieved May, 2022 from https://wige.europa.eu/thesaurus/terms/1184
Indeed Editorial Team (2020). What are social skills? Definition and examples. Retrieved June 10, 2022 from https://www.indeed.com/career-advice/career-development/social-skills
Kashdan, T. B., Barrett, L. F., & McKnight, P. E. (2015). Unpacking emotion differentiation: Transforming unpleasant experience by perceiving distinctions in negativity. Current Directions in Psychological Science, 24(1): 10-16.
Kenny, M. E., & Minor, K. A. (2016). Promoting healthy and effective relationships among school-aged children and youth. SAGE Publication, Inc.
Junge, C., Valkenburg, P. M., Dekovic, M., & Branje, S. (2020). The building blocks of social competence: Contributions of the consortium of individual development. Development Cognitive Neuroscience, 45: 1-10.
Jorgensen, C. G. (2017). John Dewey and the dawn of social studies: Unraveling conflicting interpretation of 1916 report. Information Age Publishing.
Leach, A. (2022). 12 steps to achieve gender equality in our lifetimes. Retrieved June 16, 2022 from https://www.theguardian.com/global-development-professionals-network
Nigerian Educational Research and Development Council (2012). Religion & national values: JSS 1-3. Fedreal Ministry of Education 9-Year Basic Education Curriculum. 1-109, NERDC Printing Press, Yaba, Lagos. by
National Council for the Social Studies (n.d.). "What is social studies?" Expectation of excellence: Curriculum standards for social studies. Retrieved July 10, 2022 from https://www.socialstudies.org
Olonade, O. Y., Yibode, B. O., Olalekan, L. B., George, T. O., Iwelumor, O. S., Ozoya, M.I., Egharevba, M. E., & Adetunde, C. O. (2021). Understanding the issues of gender inequality in Nigeria: The implication for sustainable development. HELIYON, Retrieved June 10, 2022 from https://doi.org/10.1016/j.heliyon.2021.e07622
Olusanya, F. C. (2020). Social studies and nation building in Nigeria: Challenges and prospect. Journal of African Social Studies, 1(1):77-81.
Positive Action (2020). Research-based social skills curriculum and program. Retrieved June 10, 2022 from https://www.positiveaction.net/
Ravenscraft, E. (2020). An adult's guide to social skills, for those who were never taught. Retrieved June 10, 2022 from https://www.nytimes.com/
Resilient Educator (2020). Daniel Goleman's emotional intelligence theory explained. Retrieved June 6, 2022 from https://resilienteducator.com/classroom-resources/daniel
UN Women (2020). CSW64: Commission on the status of women. Retrieved from https://www.unwomen.org/en/csw/csw64-2020Sfetcu, N. (2020). Models of emotional intelligence – Emotional intelligence in research and education. Retrieved June, 2022 from https://settings.com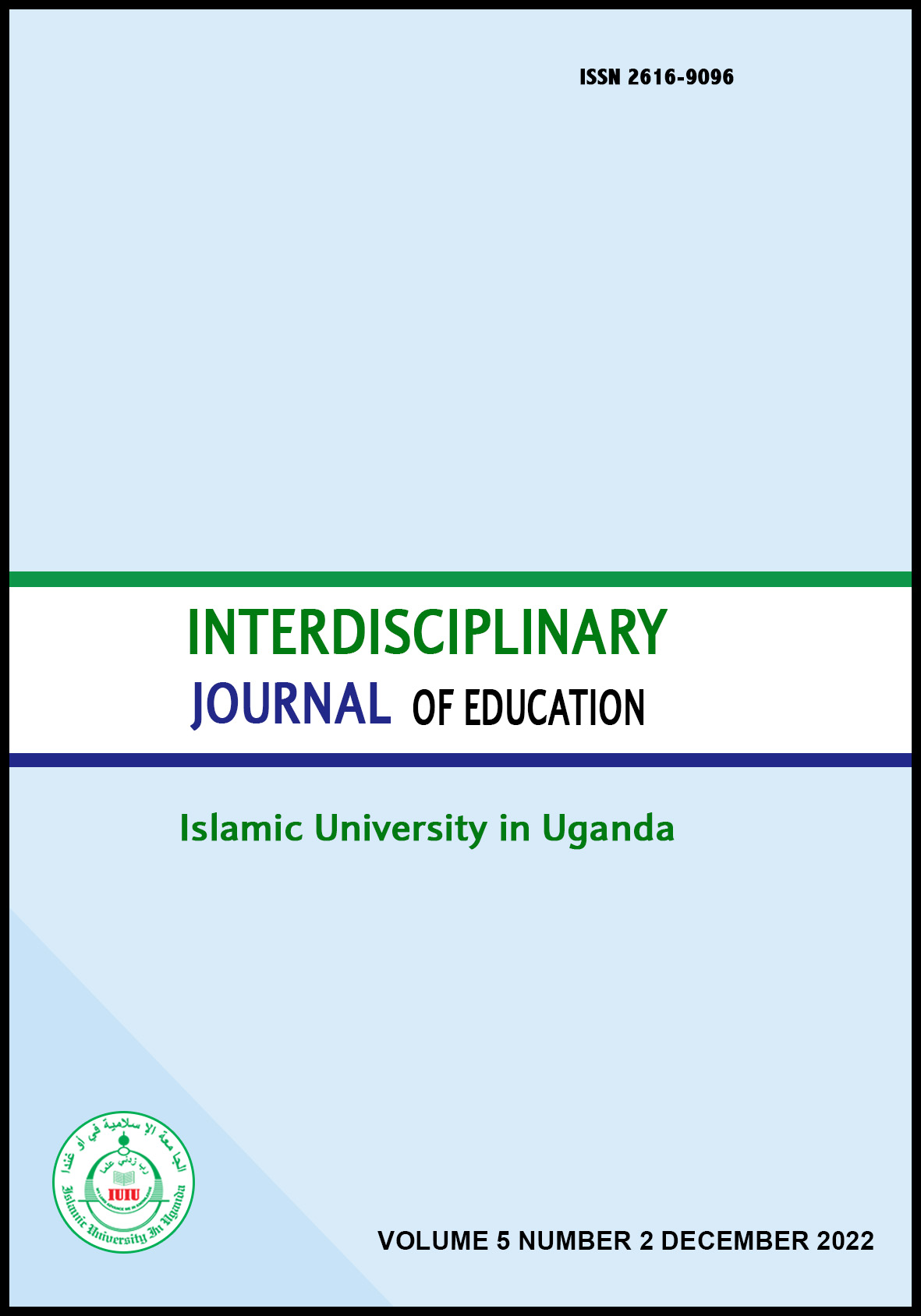 Downloads
How to Cite
Adeduntan, R. I., & Adetayo, J. O. (2022). Measuring Social Studies Critical Roles of Empowering Student's Civic Competence in Overcoming Gender Issues to Enhance Sustainable New World. Interdisciplinary Journal of Education, 5(2), 104–116. https://doi.org/10.53449/ije.v5i2.93