Privatization of Higher Education and Excellence Without Soul
Keywords:
privatization, higher education, excellence with soul
Abstract
Privatization of education in both developed and developing countries over the last century has registered a positive trend in the field of education. With the rise of capitalism and privatization of higher education by the government of Uganda, there is an increasing attempt to privatize public services, including education, so that citizens will have to buy them at market value rather than have them provided by the government. The department of higher education in Uganda concentrates strongly on the role of education in servicing the economy through taxation to the neglect of its social and developmental responsibilities. The vision of the university as a place for the education of the elite and for elite education has had a powerful historical precedent in Plato's Academy. To what extent the Platonic view of education still dominates our thinking about the role and purposes of universities is arguable. Commercialization is normalized and its operational values and purposes have been encoded in the systems of all types of universities. Correlatively, what is happening in the universities is that they are being asked to produce commercially oriented professionals rather than public-interest professionals. While this may seem like merely a change in form rather than substance, the danger with this advancing marketised individualism is that it will further weaken public interest values among those who are being educated in private universities. In this paper, the writer presents an examination on the impact of privatization of higher education on the original purpose and values of education to the individual, the society and the Ugandan nation as a whole hence promoting privatization of higher education and excellence without soul.
References
Angus, L. (2004). Globalization and educational change: Bringing about the reshaping and re-norming of practice. Journal of Education Policy, 19(1), 23-41.
Apple, M. W. (2001). Educating the right way: Markets, standards, God and inequality.
Banya, K. (2001). Are private universities the solution to the higher education crisis in Sub-Saharan Africa? Higher Education Policy, 14(12), 161-174.
Brewer, D, J., Gates, S. M., & Goldman, C. A. (2002). In pursuit of prestige: Strategy and competition in US higher education. New Brunswick: Transaction Press.
Chubb, J. & Moe, T. (1990) Politics, markets and America's schools. Washington, DC.
De La Fuente, J. R. (2002). Academic freedom and social responsibility. Higher Education.
Fardanesh, H. (2006). A classification of constructivist instructional design models based on learning and teaching approaches. ERIC database.
Gaille, L. (2019) Pros and Cons of Privatization of Education
Global Initiative for Economic, Social and Cultural Rights. (2014). Privatization and its impact on the right to education of women and girls.
Hill, D. (2005). Globalization and its educational discontents: Neo-liberalism and its impacts on education worker's rights, pay and conditions. International Studies in Sociology of Education.
Holzhacker, D., Chornoivan, O., Yazilitas, D., & Dayan-Ochir, K. (2009) Privatization in Higher Education: Cross-Country Analysis of Trends, Policies, Problems, and Solutions IB03200903.
Lieberwitz, R, L. (2004). Higher education and social policy: The case of the United States. In T. Dereli, Y. P. Soykut-Sarica, and A. Sen-Tasbasi (Eds), Labour and employment relations in a globalized world: New perspectives on wok, social policy and labour market implications. Springer International Publishing.
Rawls, K. (2012). What is college for? The public purpose of higher education. Edited by Ellen Condliffe Lagemann and Harry Lewis.
Reay, D. (2004). Cultural capitalists and academic habitus: Classed and gendered labour in higher education. Women's Studies International Forum, 27(1), 31-39.
Uganda Bureau of Statistics (2010). 2010 Statistical abstract. Retrieved 02/14/2012
Uganda National Council for Higher Education. (2012).
United Nations Educational, Scientific and Cultural Organization (UNESCO). (200l). International handbook of universities, 16th ed. New York: Palgrave Publishers.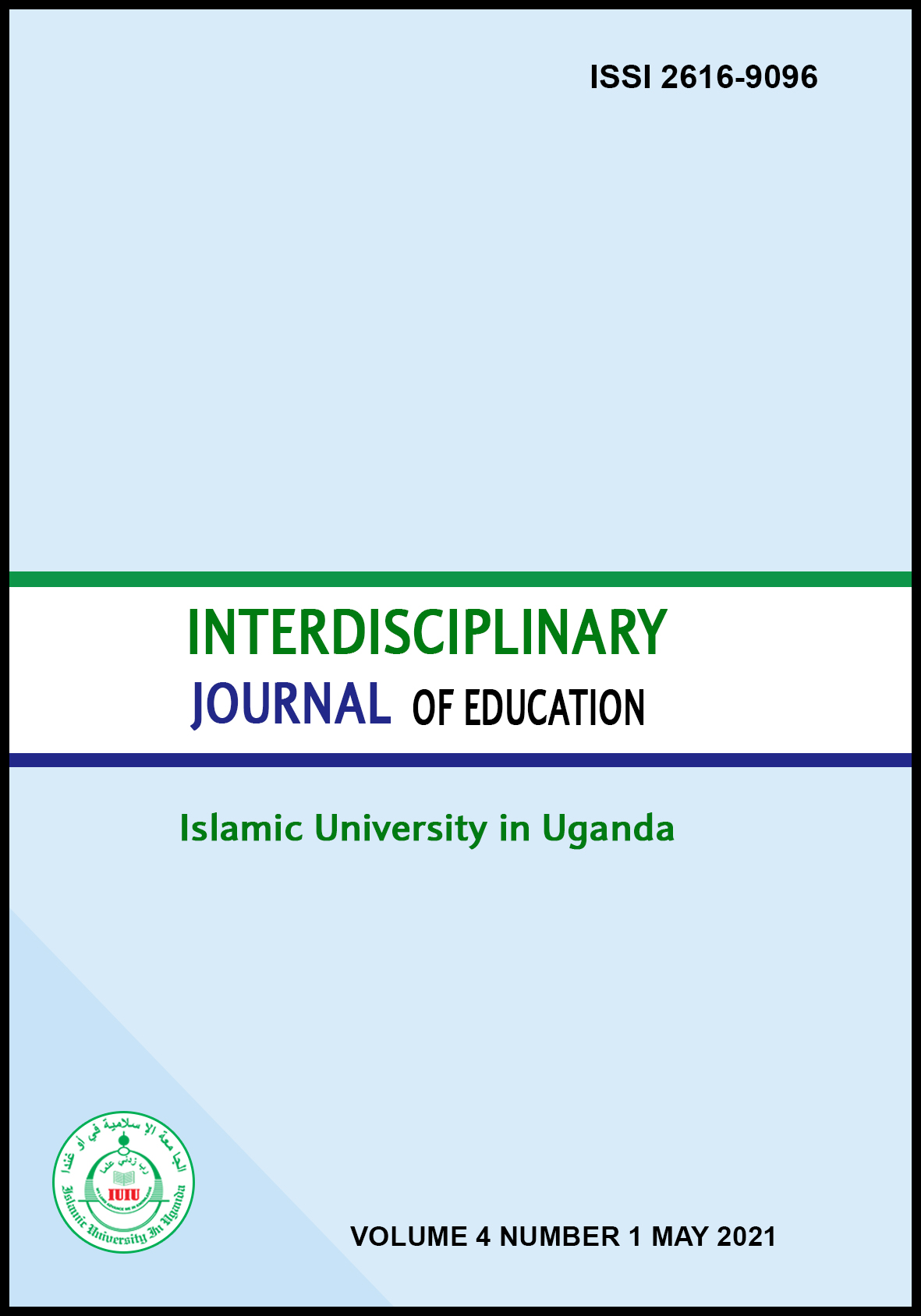 Downloads
How to Cite
Wamimbi, F., & Lukman, N. (2021). Privatization of Higher Education and Excellence Without Soul. Interdisciplinary Journal of Education, 4(1), 88–99. https://doi.org/10.53449/ije.v4i1.148