Customer Orientation and the Dual-Curriculum Secondary Schools' Performance in Mbale City, Uganda
Keywords:
customer orientation, dual-curriculum, secondary schools, school performance
Abstract
The general objective of the study was to examine the influence of customer orientation on the Dual-Curriculum Secondary Schools' performance in Mbale City, Uganda. The study adopted an explanatory sequential research design with both quantitative and qualitative approaches which were used for purposes of triangulation. The target population was 157 and a sample of 128 classroom teachers and 3 Head teachers were selected using simple random sampling and census inquiry respectively. Data collection was majorly by closed-ended questionnaire and an interview guide. The validity of the instrument had a CVI of (.86) whereas the Cronbach's alpha coefficient score was (.917). The study was guided by the Dynamic Capabilities Theory. Quantitative data was analysed using regression, while qualitative data was analysed by thematic and content analyses. Regression coefficients attained for the study were positive and statistically significant; Customer orientation has a moderate positive statistically significant influence on schools' performance (β=.503, p<.05) reflecting that customer orientation improves Dual-Curriculum Secondary Schools' performance at 50.3%. Based on the above findings, it was concluded that customer orientation has a positive and statistically significant influence on the dual-curriculum secondary schools' performance in Mbale City. Finally, the study recommends that the Dual-Curriculum Secondary Schools need to be more customer oriented in terms collecting current information about the customers' needs, directing school practices towards creating students' satisfaction, and building stronger relationships with students among others.
References
References
Arifin, D. N., & Drysdale, L. (2015). A market oriented school. AARE Conference, Western Australia, 1–15.
Felgueira, T., & Gouveia, R. (2015). Market orientation of teachers and researchers in higher education institutions : A new approach. Procedia - Social and Behavioral Sciences, 174, 3017–3024. https://doi.org/10.1016/j.sbspro.2015.01.1092
Francis, M., & Hawa, T. (2020). Marketing orientation and student retention in Tanzania higher learning institutions: Mediating Role of Institutional Reputation. AFRREV IJAH An International Journal of Arts and Humanities, 9(2), 214–232. https://doi.org/10.4314/ijah.v9i2.17
Hashim, F., Rahim, A., & Bakar, A. (2011). Antecedents and consequences of market orientation in non-profit organizations: Evidence from Malaysia. International Journal of Management and Marketing Research, 4(3), 95–105.
Hult, G. T. M., Ketchen, D. J., & Slater, S. F. (2005). Market orientation and performance: An integration of disparate approaches. Strategic Management Journal, 26(12), 1173–81.
Jabbar, H. (2015). 'Every kid is money": Market-like competition and school leader strategies in New Orleans. Educational Evaluation and Policy Analysis, 20(10), 1-22.
Mokoena, B. A., & Dhurup, M. (2017). Effects of market orientation and barriers to market orientation on university performance: A study of universities of technology in South Africa. International Business and Economics Research Journal, 16(1), 17–30.
Mokhtaran, M., & Komeilian, B. (2016). Exploring the effect of customer orientation on Dana insurance performance considering the intermediary role of customer relations and service quality management. Faculty of International Review, (2016 No.3-4), 51–61. https://doi.org/10.5937/intrev1604051m
Morgan, N. A., Vorhies, D. W., & Mason, C. H. (2009). Research notes and commentaries market orientation: Marketing capabilities, and firm performance. Strategic Management Journal, 30(8), 909–920. https://doi.org/10.1002/smj.764
Musisi, B., & Genza, G. (2019). Invisible and visible hands in Uganda's secondary education market. Interdisciplinary Journal of Education, 2(1), 40–57. https://journals.iuiu.ac.ug/index.php/ije/article/view/24/24
Narver, J. C., & Slater, S. F. (1990). The effect of a market orientation on business profitability. Journal of Marketing, 54(4), 20–35.
Omboi, B. M., & Mutali, I. N. (2011). Effect of Selected Marketing Communication Tolls on Student Enrollment in Private Universities in Kenya. European Journal of Business and Management, 3(3), 172-206.
Revisi, C. D. E., & Lamas, A. (2015). School Performance. 3.
Santos, M. J., Perin, M. G., Simões, C., & Sampaio, C. H. (2020). Customer orientation and financial performance relationship: The mediating role of innovative capability. Gestao e Producao, 27(4). https://doi.org/10.1590/0104-530X4706-20
Selvakumar, J. (2015). Impact of service quality on customer satisfaction in public sector and private sector banks. International Journal of Quality and Reliable Management, VIII(1), 919-935.
Singh, S. (2009). How market orientation and outsourcing create capability and impact business performance. Thunderbird International Business Review, 51, 457-471
Slater, S. F., Mohr, J. J., & Sengupta, S. (2010). Market Orientation. Wiley International Encyclopedia of Marketing. https://doi.org/10.1002/9781444316568.wiem01031
Webster, R. L., Hammond, K. L., & Rothwell, J. C. (2013). market orientation effects on business school performance: Views from inside and outside the business school. American Journal of Business Education (AJBE), 7(1), 9–20.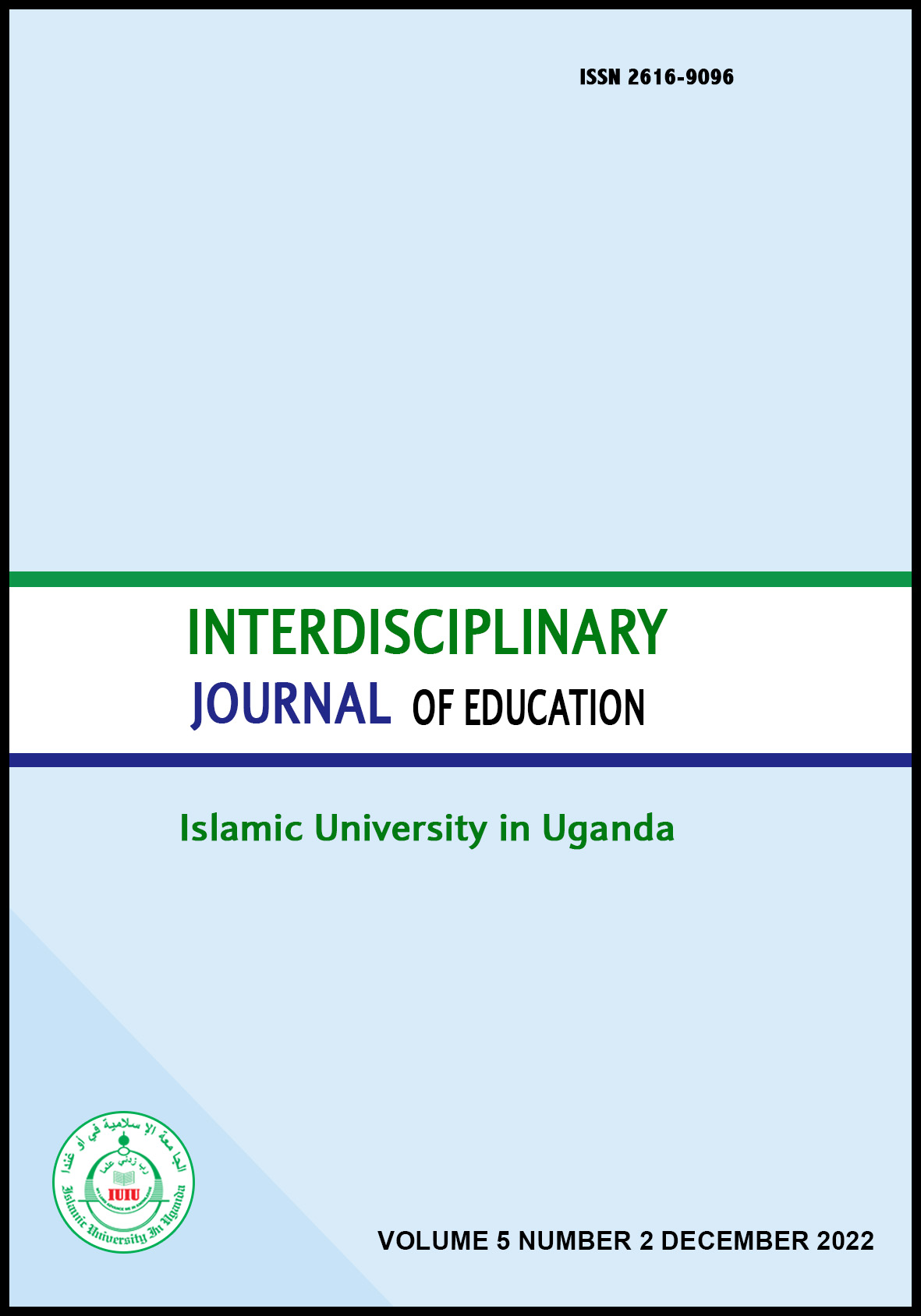 Downloads
How to Cite
Mwima, B. (2022). Customer Orientation and the Dual-Curriculum Secondary Schools' Performance in Mbale City, Uganda. Interdisciplinary Journal of Education, 5(2), 164–176. https://doi.org/10.53449/ije.v5i2.210