Personality Type and Discipline Among Senior Secondary School Students in Ilorin Metropolis, Kwara State
Keywords:
discipline, personality type, secondary schools, students
Abstract
Students' personality type determines the discipline of the students either positively or negatively. The main purpose of the study was to examine the influence of personality type, gender and school type on discipline among selected senior secondary school students in Ilorin Metropolis. This research work was designed to cover Senior Secondary II in Ilorin Metropolis. The sample for this study comprised 200 senior secondary school II students in Ilorin Metropolis. Simple random sampling technique was used to select 10 senior secondary schools (five public and five private). Data collected through a researcher designed questionnaire was analysed with the use of percentage and independent t-test. The formulated hypotheses were tested at 0.05 level of significance. Results of the study showed that majority of the senior secondary school students in Ilorin Metropolis had type 'B' personality. Results also revealed that the level of discipline among selected senior secondary school students in Ilorin Metropolis was high. This means that majority of the sampled students were disciplined. This result is plausible where the students abide by rules and regulations within and outside school.
References
Alidzulwi, T. A. (2000). The role of parents in values education with special references to the situation in Venda (Northern Province) [Unpublished Med dissertation]. Stellenbosch: University of Stellenbosch.
Ajayi, A. (2006). The influence of school type and location on resource availability and pupils learning outcome in srimary Schools in Ekiti State, Nigeria. Educational Thought, 5(1), 170-176. https://www.researchgate.net/publication/265193476_School_Types_FaFaciliti_and_Academic_Performance_of_Students_in_Senior_SecondarS_Schools_in_Ondo_State_Nigeria
Atanda, O. O., & Olaifa, S. A. (2022). Comparative study of quality assurance practices in unity schools and private secondary schools in Kwara and Oyo States, Nigeria. Daengku: Journal of Humanities and Social Sciences Innovation, 2(1), 19-27. https://jurnal.ahmar.id/index.php/daengku/article/view/680/463
Busato, V. V. (2009). Learning style, personality, achievement motivation, intellectual ability and academic success and academic success in higher education: a structural. Personality and Individual Differences, 3(6), 129-140.
Donnellan, M. B., & Robins, R. W. (2010). Resilient, overcontrolled, and undercontrolled personality types: Issues and controversies. Social and Personality Psychology Compass, 4 (11), 1070–1083.
Egwunyenga, E. J. (2000). Essentials of school administration. Justice Jeco Publishers.
Friedman, M., & Rosenman, R. (1974). Type A behavior and your heart. Fewcett Publications.
Glazer, S., & Beehr, T. (2002). Similarities and differences in human values between nurses in four countries. International Joumal of Cross-Cultural Management, 2, 185-202.
Hanif, A., & Sultan, S. (2011). Type A- B personality and locus of control: A combined factor determining job satisfaction. Business Review, 6(2), 90-96.
Imaguezor, M. V. (1997). Analysis of cases of violation of students' rights in secondary schools in Edo State [MED thesis]. University Benin, Nigeria.
Lukman, A. A., & Hamadi, A. A. (2014). Disciplinary measures in Nigerian senior secondary schools: Issues and prospects. IOSR Journal of Research & Method in Education (IOSR-JRME), 4(3), 11-17 https://www.iosrjournals.org/
Muhammad, S. A. (2020). Gender as a determining factor of discipline among adolescents in Offa, Kwara State [Unpublished MEd dissertation]. Obafemi Awolowo University, Ile-Ife.
Petticrew, M. P., Lee, K., & McKee, M. (2012). Type A behavior pattern and coronary heart disease: Philip Morris's 'Crown Jewel'. American Journal of Public Health, 102(11), 2018–2025. https://doi.org/10.2105/AJPH.2012.300816
Rotimi, O. A., Omonijo, D. O., & Uche, O. O. (2014). Influence of personality types and socio-demographic characteristics of students on examination malpractice: Case of secondary schools in Ibadan. European Journal of Scientific Research, 124(4), 486-499.
Sarumi, A., & Onweazu, O. O. (2010). Indiscipline among the female secondary school students in selected rural communities of Rivers State in Nigeria: Causes and effects on academic performance. Journal of Education and Practice, 1(1), 27-35.
Silsil, P. (2010). The Kenya handbook for teachers (Revised Edition). Shrend Publishers Ltd.
Yaroson, M. C. (2004). Strategies for curbing indiscipline in Nigerian secondary schools. Paper presented at the National workshop on developing education issues of standard and sustainability in secondary schools in Nigeria. www.accs.org.uk
Zubaida, A. N. (2009). Indiscipline and its management techniques: A case study of a special education school in Kano State. The Journal of the National Council for Exceptional Children, 11(2), 455-463.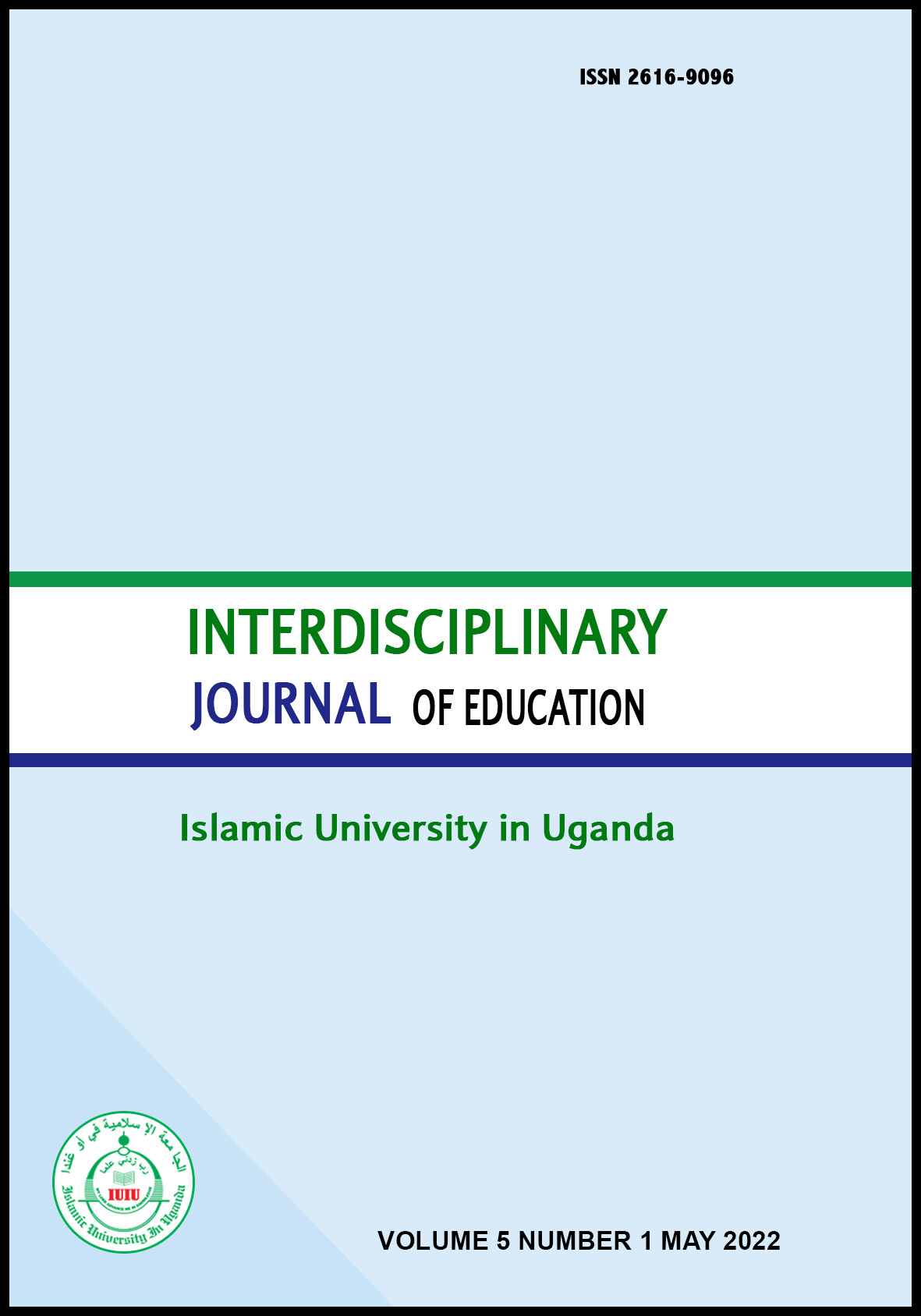 Downloads
How to Cite
Badamas, L. (2022). Personality Type and Discipline Among Senior Secondary School Students in Ilorin Metropolis, Kwara State. Interdisciplinary Journal of Education, 5(1), 25–35. https://doi.org/10.53449/ije.v5i1.74