Evaluating the Madrasah School System in Lagos State: Transformational Agenda to Meet 21st Century Modern Needs and Realities
Keywords:
Arabic education, Lagos State, modern realities, transformation agenda, Madrasah
Abstract
The "Madrasah" connotes schools purposely built for the preservation of the Islamic faith. They are schools that made the survival of Islam possible even with the presence of imperialists and colonial masters in Nigeria. These schools scattered all over Africa, have equally gained popularity among the Yoruba populace of Lagos State. However, despite the popularity they enjoy among Muslims, the Madrasah system has yet to gain government recognition, approval and neither does it enjoy acceptance and the goodwill of formal education stakeholders. The main objective of this study was to show case the realities of these schools in relation to their functionality with an aim to transforming them to meet up with contemporary and globalized educational needs of the 21st century society. A Survey research design was adopted with the use of a qualitative approach. Using the incidental sampling technique, 23 popular and notable Arabic schools were selected with the objectives to giving a full description of: their teachers and recruitment system; school management policies / systems; available physical environment and resources as well as the viability of the products of such schools. The study concluded with suggestions and recommendations that include amongst others; the imperativeness of the need for stakeholders' involvement and a transformative agenda for effective needed change in the system.
References
References
Abdul-Raheem, B. (2020). Transforming Islamiyyah Schools for effective performance in the 21st century in South-West Nigeria. Ilorin Journal of Religious Studies (IJOURELS), 10(1), 33-64
Abdullah, U. I. (2018): Towards restoring a functional madrasah system https://educateleb.com/functional-madrash-system.
Abubakare, R. D. (2004). The interplay of Arabic and Yoruba culture in South western Nigeria. Dar al-ilm publishers.
Adeyemi, K. A. (2016). The trend of Arabic and Islamic education in Nigeria: Progress and prospects. Open Journal of Modern Linguistics, l6, 197-201. http:/dxdoi.org/10.4236/odml.2016.63020.
Al-Aluri, A. A. (1990). Naslim al-soba fi akhabr al-Islam wa 'ullama' biladyunuba. Maktaba Wahbaj.
Alismail, H. A., & McGuire, P. (2015). 21st Century standards and curriculum: Current research and practice. Journal of Education and Practice, 6(6), 150-155. https://files.eric.ed.gov/fulltext/EJ1083656.pdf
Demirci, M. (2017). Tefsir tarihi, Istanbul, Turkey: M.Ü Ğ lahiyatfakültesivak yayinlari.
Drew, S. V. (2013). Open up the ceiling on the common core state standards: Preparing students for 21st-century literacy—now. Journal of Adolescent and Adult Literacy, 56(4), 321-330. doi: org/10.1002/JAAL.0014
Jouejati, S. (2011). Integrating technology into Arabic classroom engaging the iGeneration. 12th ISNA Education Forum. http://innovateonline.info/index.php?view=article&id=38
Joyce, B., Weil, M., & Calhoun, E. (2009). Models of teaching. Pearson /Allyn and Bacon.
Basheer, M. K. (2016). Quality enhancement in madrasa education: An exploratory study. Cambridge Scholars Publishing.
Ogunbado, A. F, (2016). Historical development of Muslim education in Yoruba Land, Southwest Nigeria. Journal of Multidisciplinary Studies, 4(8), 13-21. https://www.scribd.com/document/432817474/Historical-Development-of-Muslim-Education-in-Yoruba-Land-Southwest-Nigeria
Olaniyan-Shobowale, K. O. (2018). "What are they doing after school? An analysis of the post school activities of Arabic school graduates. Literacy and Reading in Nigeria, 17, 170-176.
Paige, J. (2009). The 21st century skills movement. Educational Leadership, 67(1), 11.
Uyuni, B., & Adnam, M. (2020). The challenges of Islamic Education in the 21st century. Salaam: Jurnal Sosial dan Budaya Syar-I, 7(12), 1079-1098. doi: 10.15408/sjsbs.v7i12.18291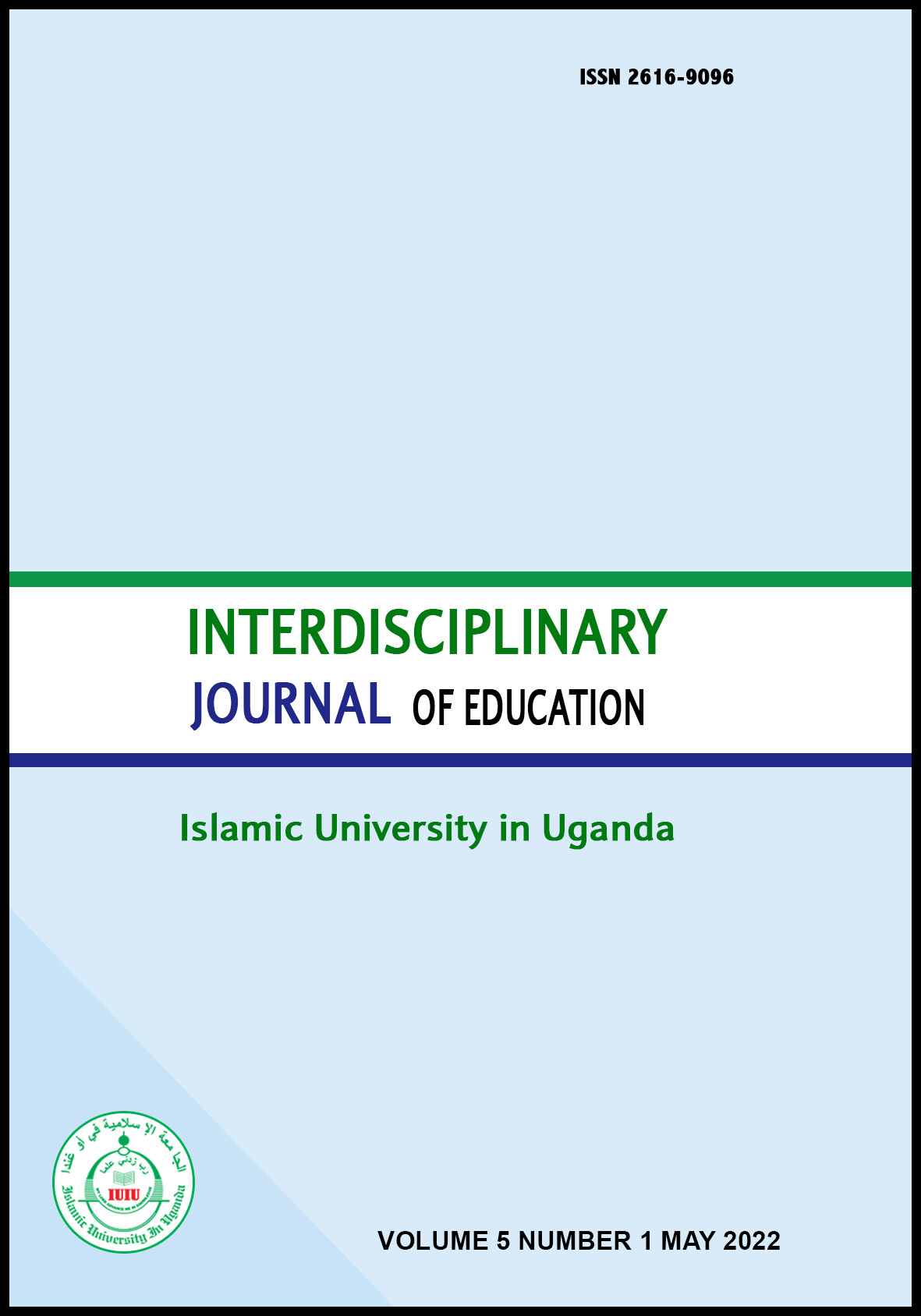 Downloads
How to Cite
Olaniyan-Shobowale, K. (2022). Evaluating the Madrasah School System in Lagos State: Transformational Agenda to Meet 21st Century Modern Needs and Realities. Interdisciplinary Journal of Education, 5(1), 62–72. https://doi.org/10.53449/ije.v5i1.73